Our story
Stone Glace brings to the world fine Chinese porcelain arts handcrafted in Jindezhen.  Stone Glace bowls, vases, lamps etc. are solid and adorable in order to enjoy beauty into a daily use.
Stone Glace's story
Stone Glace was first born in our minds back in Europe where we spent a week long vacation a few years ago.
A European friend inspired us when touring together the museum and his personal collection of Chinese porcelains. Just everyone appreciated the beauty of Chinese porcelains.
Having served porcelain arts nation wide for almost 20 years, we came into the idea to just let the world appreciate the original Chinese porcelain art and craftmanship that has been inherited for hundreds of years.
Back to China after the vacation, Xianming and I decided to offer the possibility to all the friends around the world to directly get these beautiful pieces and porcelain arts from Jindezhen, China
How does Stone Glace work?
All of our art pieces are totally handcrafted in Jindezhen.
We select a set of high quality porcelain made by nationally accredited artists, including eggshell porcelain bowls, vase, lamps etcs. aiming to set harmony between arts from the east and the west. You may place an order from our collections in the online store.
We can also make porcelain pieces according to customer's design or preference.
Our products can be delivered all over the world via international express mail within a few working days. If you are not satisfied with our products, we provide full refund within 7 days.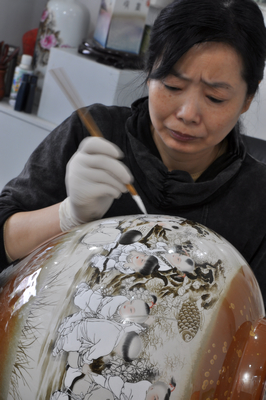 How to get more information?
Please check our terms and policy and delivery rubrics to get detailed information on selling conditions

Home